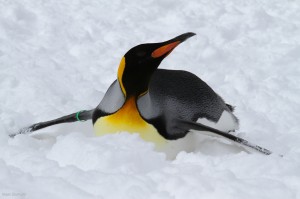 Google's updated search algorithm, Penguin 3.0, has landed – or at least slid forcefully in on its belly – and many companies are already seeing dramatic changes to their search rankings. Whether your business can expect a sharp rise or fall depends on several factors.
Since its introduction in 2012, Penguin has aimed to cut down on spamming and the sneaky tactics that some companies have undertaken to push their site higher on Google's results. With as much as 40% of all internet traffic passing through Google, and of that at least half going to the top 3 results, page rankings are unsurprisingly a highly competitive subject.
As with most major updates from Google, they are being very tight-lipped on specific alterations.
Google rewards websites that it believes to be popular and trustworthy with higher search rankings and one of the ways it measures popularity is by looking at the sites linking to it. To cut corners, many businesses have chosen the route of spamming pages and link farming in order to generate a high volume of incoming links. Google tries to punish this in an attempt, it says, to improve the quality of people's search results.
If you are hit by the recent changes, it is advised that you disavow bad links and remove any links to your site that may be deemed spam.
Those who have previously been penalised by the measures have been desperately trying to claw back the significant losses in traffic that their sites have observed. For these companies, this update could be a landmark moment, as they are now able to see whether their efforts have proved effective. Penalties are only lifted upon a major update to Penguin and this is the first major update in over a year.
As ever, Google's advice is to produce high quality content and to produce it frequently. This can be done by having a 'news' or 'blog' section on your site, if you don't already. Here, you should regularly post original content that is relevant to your field and which will interest your audience. Through this, Google is more likely to consider your site to be higher quality and thus you should see better rankings.
But that is not all you have to do. Utilising the keywords that are important to your brand and having a well optimised site is essential for attracting relevant search queries. Having reputable websites link to your pages is also highly effective.
This takes a lot of hard work, so it is necessary for your business that, whether you are local or global, B2B or B2C,  you dedicate the time and money for an effective online marketing campaign.